Crochet Membership
Build your crochet knowledge, skill, and community when you become a member!
Become a Member
Introducing The ACA Crochet Membership:
ALL Access to our 12 Course Learning Path ($288 annual value)!
Exclusive challenge, pattern, event, sale or giveaway each month!
Enjoy education without ads or gimmicks!

Be part of an online community with over 9,000 members!
Get service and support from real people you can count on!
3 Main Membership Benefits: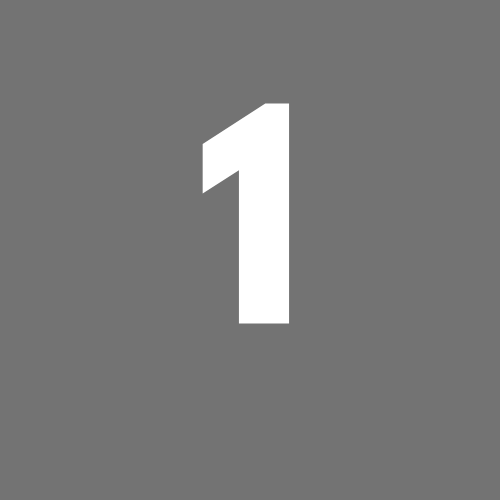 Community: We're in this together!
Crochet is a treasured outlet, and we work to assure this membership is too. Our online community has over 9,000 crocheters you can connect and network with - come join the fun!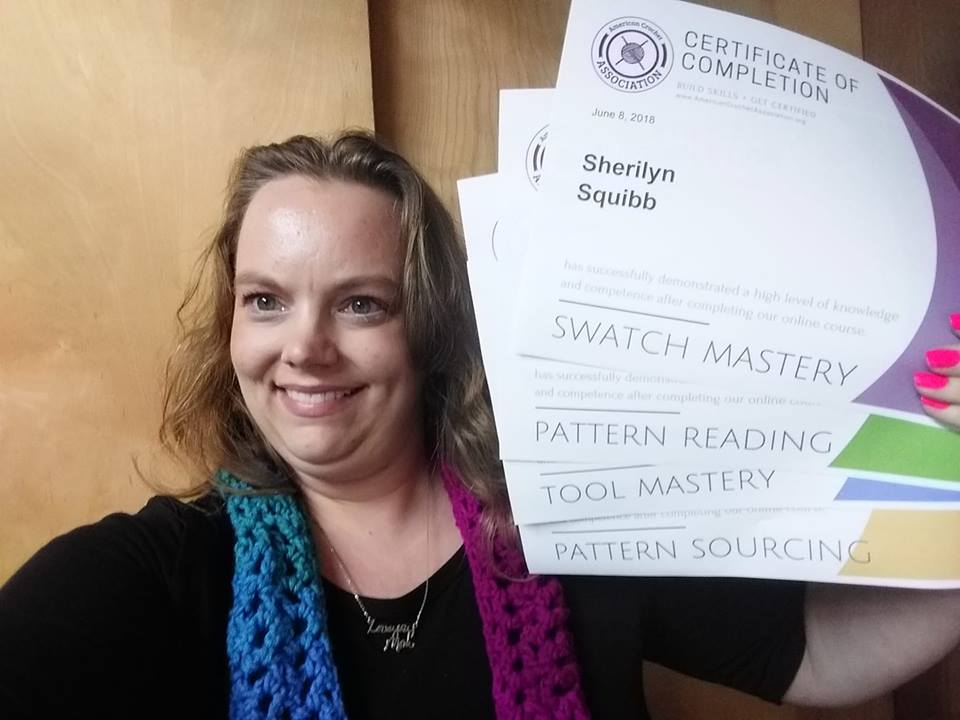 Education: Easy to follow courses!
The ACA membership is more than just a strong community. Our one-of-a-kind Learning Path includes 48 lessons that are easy to follow, made without gimmicks or advertisements, and can be completed with your favorite device on your own time.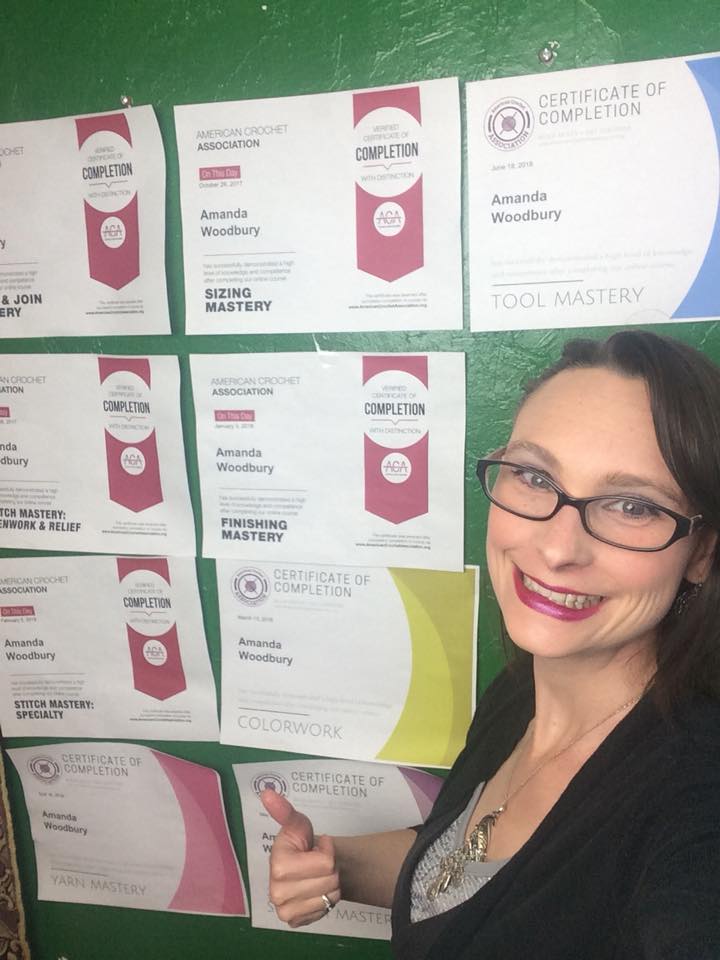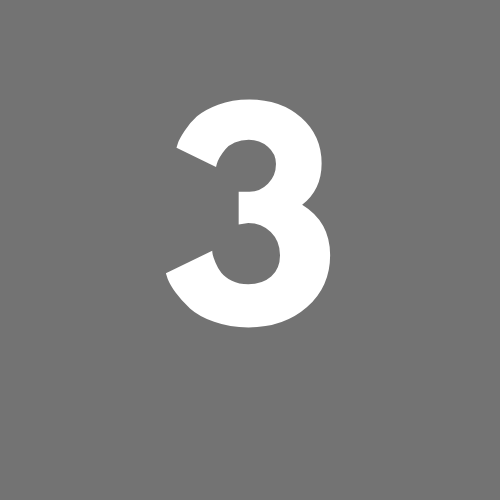 Support: I'm here to help!
The ACA is dedicated to helping crocheters help themselves, so that crochet can be passed through the generations in better hands than we found it.

If you're looking for a clear path to build your skills, start a crochet career, or be part of an education-driven community... this membership is for you!
Salena Baca
Founder, American Crochet Association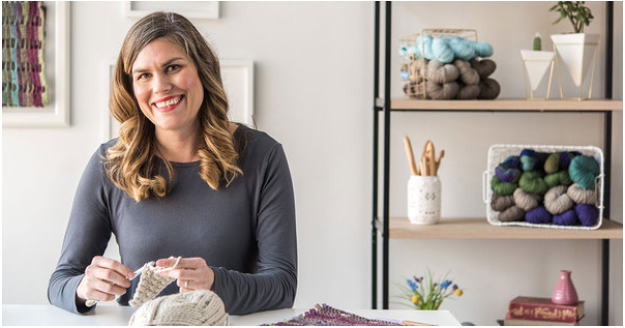 Meet Your Instructor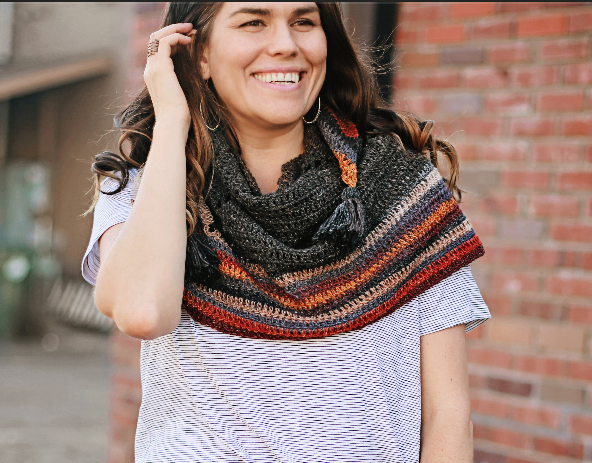 I learned to crochet at the age of 5 and haven't put my hook down since! I've published over 400 patterns, authored 8 crochet books (so far...), taught 2 courses with Craftsy, and launched the American Crochet Association. I currently live in Oregon with my husband, son, 2 cats and 1 dog.
2009-present: Salena Baca Crochet
2012-2016: Design Wars, Founder
2014-2017: Happily Hooked Magazine; Content Coordinator, Director of Relations
2014-2016: The Pattern Pack; Founder & Editor
2015: Author
2015-present: American Crochet Association; Founder & Lead Educator
2016, 2018: Craftsy Instructor
2018-2020: Yarnpreneur Academy; CEO / Lead Yarn Lover
"Even though I have been crocheting for 47 years (and counting), I find the courses interesting and enlightening. Since I'm mostly self-taught, a lot of my knowledge and experience is intuitive and informal. American Crochet Association has helped me to define that knowledge and therefore makes me more confident of what I know."
- Hinda Ader, Facebook reviews

Your ACA membership features an exclusive challenge, pattern, event, sale or giveaway every month! Check in monthly to find what's new and exclusive for you!
Included Material
2023 Crochet Challenge
Available in days
days after you enroll
Crochet Lessons
Available in days
days after you enroll
Resources
Available in days
days after you enroll
Your ACA membership includes the Learning Path:
Like earning a degree in crochet, our 12 course Learning Path will build your crochet knowledge and skill! Every course includes video and written lessons, quizzes and homework! Earn a Certificate of Completion when you finish all 12!
As long as you're a member, you'll have access to these courses (a $288 value per year).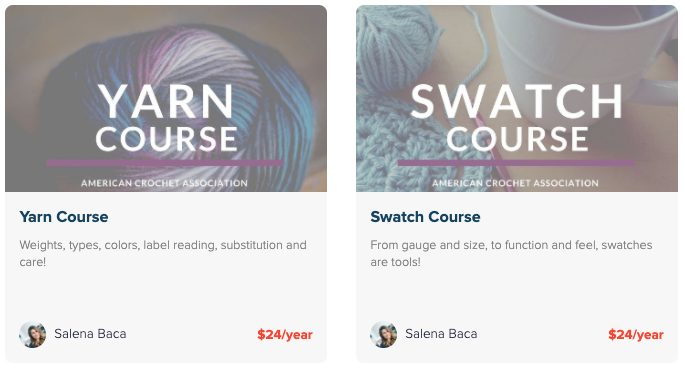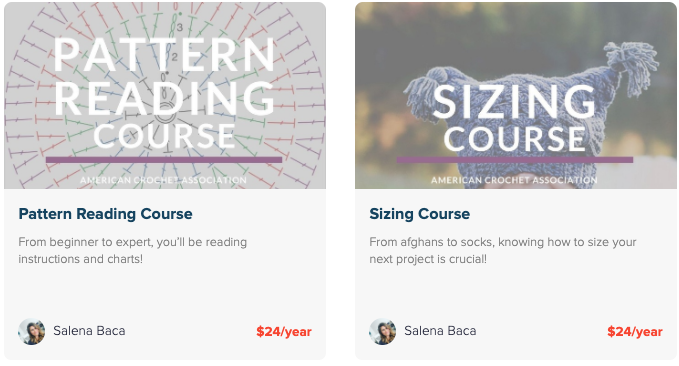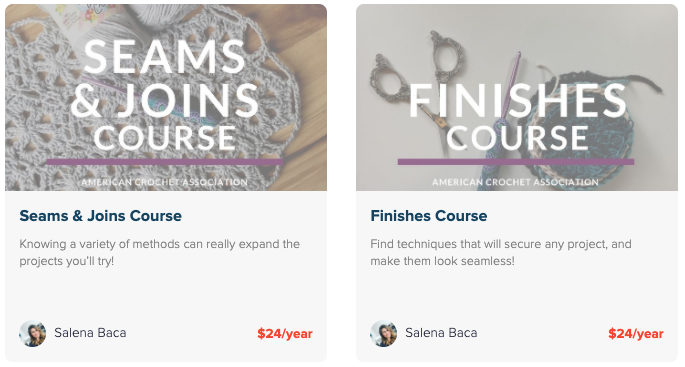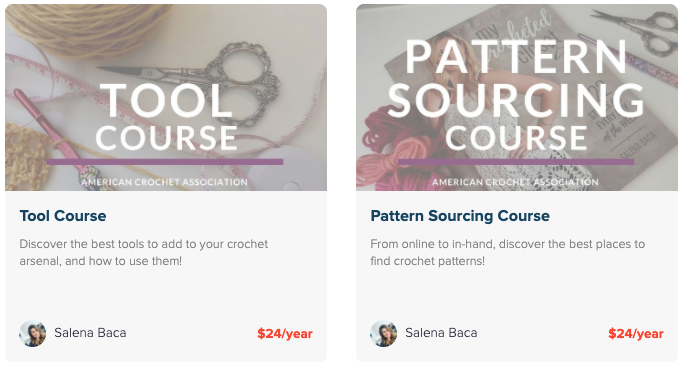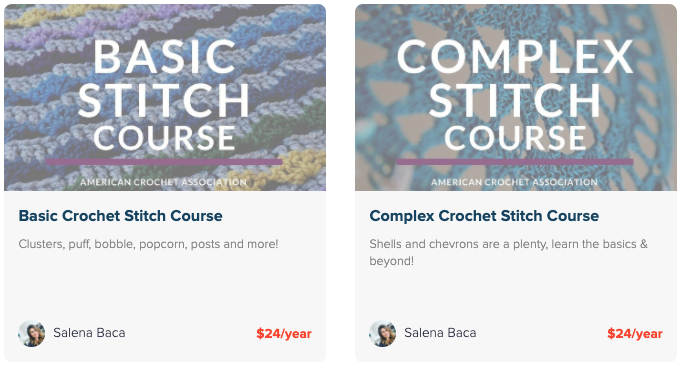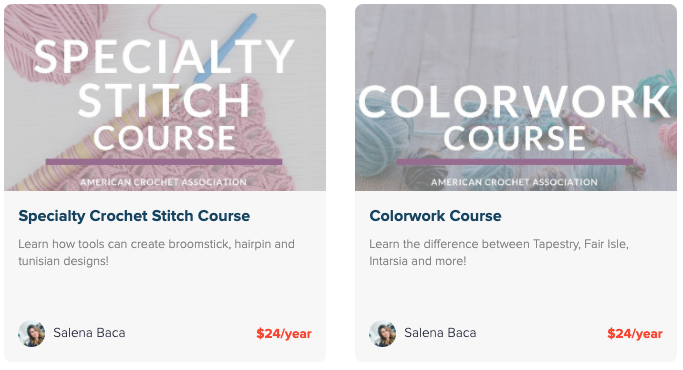 Original price for all 12 per year: $288
"I have been crocheting for many years. I didn't realize there was so much more to learn until I joined the American Crochet Association. Their courses are thorough, easy to understand, professional, and include clear pictures and instructions. I'm very happy I joined the ACA. My crochet has definitely improved since I started applying the concepts I've learned from the ACA!"
- Connie E., ACA member since July 2016
"I love the fact that you have the convenience of viewing the videos when your schedule allows and that you can re-view as needed. Salena Baca speaks at a pace that is appropriate for learning, neither too fast nor too slow. I would definitely recommend this course to anyone, from beginner to experienced, who wants to learn more about crochet."
- Mary Stanton, Facebook reviews
"Oh gosh. I just love the ACA. Every chance I get to talk about it, I do. I LOVE the new layout. For me, it's easier to stay focused. When too much information is offered at once I get easily distracted and therefore I don't retain the information as well.
I definitely feel more confident about yarn and have shared some of my newfound knowledge to other fiber artists that I know. I cannot wait for the next course to start! Thanks for all the hard work you guys do at the ACA. I just can't say enough good things about it. Proud to be an ACA member!"
- Amanda Pippin, ACA member since 2016